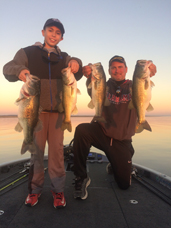 Recent Catches

Kurt Dove
Lake Amistad
Lake Amistad bass fishing has been rated #1 by ESPN !
Lake Amistad fishing guide Kurt Dove is one of the premier full-time Lake Amistad fishing guides. Check out the photos of recent Lake Amistad catches and the updated Lake Amistad fishing report!
---
For a hassle free trip:
Texas Fishing License
Mexican Fishing License
(Required if fishing Mexican waters, can be purchased morning of trip)

For your protection:
Hat
Sunscreen
Polarized Sunglasses

For Your Enjoyment:
Beverages/Snacks
Camera
Tackle/Rods/Reels (captain can furnished equipment if desired)

---
---
Discover what makes Del Rio one of

America's best places to live, visit, work and play.