Lake Amistad is located near Del Rio, TX. Del Rio is located along the Mexico border 150 mi. west of San Antonio, Texas. Lake Amistad is a large, clean, deep reservoir that offers world class bass fishing and endless recreational possibilities.
Visibility in Lake Amistad varies according to the season and location. You could expect visibility of 20 to 25 ft. in the spring, and 8 to 15 ft. in the summer. Lake Amistad water temperature varies from about 55 degrees in the winter, to 85 degrees in the summer. Lake Amistad shoreline is almost always a deep bank or bluff.
Click Maps to Enlarge Them.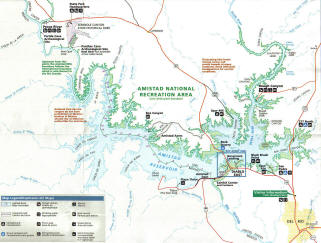 The main channel is 100 ft. to 150 ft. throughout the lake. Lake Amistad is maintained by the National Park Service as the Amistad National Recreation Area. There are several nice boat ramps, picnic and fishing areas, dry camping, and marinas.
Over the last several years, there has been a rapid expansion of Hydrilla in Lake Amistad. This underwater vegetation grows thick in the summer, and dies back to the lake floor during the winter.
The hydrilla in Lake Amistad can grow in water up to 40 ft. It grows from a clump on the floor and expands upward and outward to the surface, which provides oxygen to the water and creates an ideal environment for fish.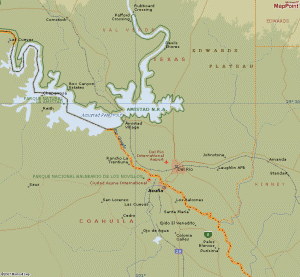 Lake Amistad Offers More Than Lunker Bass
Danno Wise
In recent years – thanks largely to huge stringers being posted by tournament pros – Lake Amistad's big bass potential has become nationally known. By now, virtually every bass angler in the nation knows this sprawling impoundment straddling the Texas/Mexico border near the town of Del Rio is capable of producing fish of immense proportions. What is not as commonly known, however, is that Lake Amistad and the surrounding area offer a wide array of non-fishing diversions for anglers and their families.

The first thing ambitious anglers need to understand is the remoteness of Amistad. The lake is a fairly good distance from anywhere. In fact, San Antonio, a little over 2 hours away, is by far the closest major population center. As a result, 'day trips' to the lake are rare for most fishermen. Therefore, finding a place to stay should rank high on the to-do list for the majority of anglers heading to this South Texas bass factory.

Del Rio, located just minutes from the lake's southern end, offers a variety of reasonably priced hotel rooms. However, anglers wishing to stay on the water can quite literally do just that by renting a houseboat. In fact, long before Amistad became famous for spitting out lunker largemouths, it was a popular houseboating locale. These days, many visitors combine the two activities, according to Ron Sanders of Forever Resorts.

"A lot of our customers will use the houseboat as a base of sorts, but tow a smaller boat behind them for fishing and exploring the lake," Sanders said. "We do rent smaller boats as well, but most bass fishermen bring their own. If that's the case, we're only a five minute boat ride from a ramp.

"From spring through fall, we see a lot of families come down and rent houseboats. A lot of those folks are fishing. But, there's plenty of other stuff to do as well. Swimming is really popular – and our boats have a slide that lets you go right into the water. The water here is so clear, diving is also popular. And, there's a lot of sightseeing. Going up into the rivers (Rio Grande and Devil's) to look at the pictographs is a really neat thing to do."

Peering at pictographs and other archeological remains is, in fact, nearly as popular as bass fishing on Lake Amistad. Overall, the region contains 325 documented pictograph sites. Parida Cave (once known as Painted Caves Station) is one of the most extensive and popular sites along the lake shore. With 300 feet of designated trails, interpretive signs and a boat dock, Parida Cave is an easy-to-access side attraction for bass anglers.

Panther Cave is perhaps the most famous pictograph site in the area. The hundreds of pictographs that cover Panther Cave's rear wall form an uninterrupted 80-foot long panel.

Like Parida Cave, Panther Cave is accessible to boaters via an onsite boat dock. Visitors do need to ascend a 60-foot steel staircase to get a view of the cave, but most agree the view is well worth the climb.

Thanks to the vastness of the Amistad National Recreational Area, which encompasses practically the entire U.S. portion of the lake, there are plenty of other shoreside options for visitors. Covering over 58,000 acres, the ANRA is vast enough to ensure a truly 'natural' experience for visitors.

The generally bare, limestone shoreline which rings Amistad is the perfect perch for shorebound anglers, as well as birdwatchers, swimmers, stargazers and picnickers. And, with well over 500 miles of shoreline within the ANRA's boundaries, it is easy enough for visitors to find a secluded stretch.

The ANRA also features numerous boat ramps and ample area for hiking and nature walks. Additionally, paddle sport enthusiasts have plenty of suitable shoreline from which to launch canoes and kayaks.

The ANRA also has a number of campground and RV sites. The RV sites do not offer hookups, but those staying in the Recreation Area have quick and easy access to boat ramps and many of the sites offer breathtaking views of the lake.

Of course, not all of the area's activities are confined to the lake. Those willing and able to drive a short distance from Amistad's fabled waters will have a number of attractions and activities from which to choose.

"I would encourage visitors to enjoy our three museums," said Donna Langford, Convention and Visitors Bureau Director for the Del Rio Chamber of Commerce, referring to the Laughlin Aviation Museum, George Paul Museum and Whitehead Memorial Museum. "Or, taste the fine wines from Val Verde Winery, the oldest bonded winery in Texas."

Langford also notes that a variety of boutiques and restaurants are located in downtown Del Rio, as are shops boasting an array of furniture and crafts from Mexico. Those wishing to shop in Mexico should consider visiting Del Rio's sister city, Cd. Acuna, Mexico. According to Langford, the Del Rio Chamber of Commerce can assist in making arrangements for tours of Cd. Acuna for groups of 10 or more.

An hour's drive west of Del Rio is Seminole Canyon State Park and Historic Site. In addition to housing several dozen pictograghs, including some of the oldest rock paintings in North America, Seminole Canyon boasts a picnic area, 8 miles of hike-and-bike trails and an interpretive museum.

Just a short distance from Seminole Canyon the Rock Art Foundation operates the White Shaman Preserve, which is dedicated to preserving the area's ancient rock art. Tours of the White Shaman Preserve are offered each Saturday from September through May.

Regardless of which activities are chosen, the bottom line is a trip to Lake Amistad should be viewed as much more than 'just another fishing trip.' With a little advance planning, the Amistad area offers anglers an opportunity to wrap a first class vacation around world class fishing.
Helpful Links