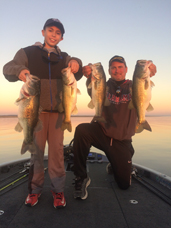 Recent Catches

Kurt Dove
Lake Amistad
Lake Amistad bass fishing has been rated #1 by ESPN !
Lake Amistad fishing guide Kurt Dove is one of the premier full-time Lake Amistad fishing guides. Check out the photos of recent Lake Amistad catches and the updated Lake Amistad fishing report!
Contact Kurt
---

Kurt Dove
P.O. Box 420543
Del Rio, TX
78842-0543
Cell: (830) 719-3648
Please use this form to request more information.
---
---
Discover what makes Del Rio one of

America's best places to live, visit, work and play.