Is Fishing Lake Amistad Safe?
Lake Amistad, in its entirety, and the Del Rio area have never seen any problems of border violence affecting the Lake and recreational boating activity.
Understanding Lake Amistad when it comes to its proximity to border boundaries is very important. The population of persons, American and Mexican, near the lake is very low due to the rural nature of this part of Texas and Mexico. The law enforcement entities that work on Lake Amistad and around the region of Del Rio are very active and keep this section of the border very safe and secure. Lake Amistad is monitored very closely, possibly because it is federally owned and operated land since the lake is a National Park and Recreation Area on the United States side. The map below shows that Lake Amistad National Park's water surface area is nearly 70% in U.S. boundaries. Lake Amistad offers nearly ¾ of its 65,000 surface acres of premier fishing waters without having to go into Mexican waters, if you desire not to fish in Mexico.
1. Lake Task Force Operations
2. Rio Grande River Arm (50% Mexican waters / 50% U.S. waters)
3. Devils River Arm (100% U.S. waters)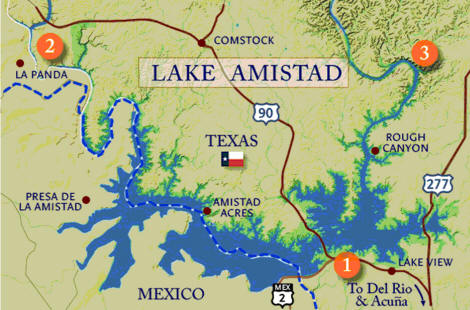 Law Enforcement
There are six major law enforcement entities working together to keep Lake Amistad and the surrounding areas safe. The U.S. Park Service, U.S. Border Patrol, U.S. Customs, Texas Parks and Wildlife, Val Verde County Sheriff's Office and the Texas State Troopers all have a presence on or around Lake Amistad. Lake Amistad is actually the first entity to have the U.S. Border Patrol and National Park Service join in operations to protect the lake and citizens on the U.S. side. The Lake Task Force is operated out of a building that overlooks Lake Amistad which gives agencies a bird's eye view of all the activities on and around Lake Amistad.

The Del Rio Chamber of Commerce keeps visitors informed.
Del Rio Chamber of Commerce For immediate release
Contact: Al Arreola Jr,
Executive Director, Del Rio Chamber of Commerce
al@drchamber.com
830-456-9050
The Del Rio Chamber of Commerce hosted a forum in which the Border Patrol, Texas Parks & Wildlife, and National Park Service discussed safety at Lake Amistad. These agencies maintain through their joint efforts they have been able to keep Lake Amistad one of the safest lakes in Texas. Recent developments at nearby Lake Falcon, have contributed to a decline in tourism and recreation due to concerns related to violence along the border.
Despite Lake Amistad's proximity to the border, the Border Patrol asserted that their presence is a significant contributing factor deterring illegal activity from Mexico. Rob Finely, Director of Marine Operations for the Border Patrol said, "One of the goals of the National Border Patrol Strategy is to apprehend terrorists and terrorist weapons illegally entering the United States and, also included within that strategy is to apprehend and deter smugglers of human, drugs and other contraband. We have agents dedicated to patrolling nothing but the lake 24/7 to ensure the security of the lake, the community and the international border."
Captain Game Warden Marco Alvizo of the Texas Parks & Wildlife discussed how state funds approved through the Texas Legislature have been of a great benefit to Lake Amistad. Captain Alvizo said, "We have been able to hire up to 4 more State Game Wardens to help protect our citizens and tourist out at Lake Amistad." Alan Cox, Superintendent of the National Park Service, asserts that despite a decrease in visitors to Lake Amistad, there has been a 5% increase in bass fishing tournaments and a 25% increase in boat rentals. "These numbers indicate tourist have a great faith in our law enforcement, and it is my assumption visitations have decreased as many Del Rioans are going out of town during these summer vacation months," said Cox. Despite any stigmas which may be associated with issues in Mexico, Lake Amistad has yet to see any direct impact nor have there been any boating fatalities.