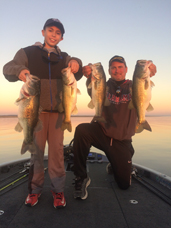 Recent Catches

Kurt Dove
Lake Amistad
Lake Amistad bass fishing has been rated #1 by ESPN !
Lake Amistad fishing guide Kurt Dove is one of the premier full-time Lake Amistad fishing guides. Check out the photos of recent Lake Amistad catches and the updated Lake Amistad fishing report!
---
January 5, 2012

Happy New Year! I am looking forward to another great year of fishing out on "The Big Blue" Lake Amistad. We ended 2011 with a good week of fishing. I had a little derby with a few friends and everyone reported good numbers of bass. Local angler Olin Jensen and East Texas pro-angler Dave Mansue had the heaviest limit of the day while Illinois pro-angler Chad Morgenthaler and I took 2nd place… there were 3 teams! I don't want to call out my buddy who finished 3rd… I want to make sure he comes back to fish with me next year! Fun was had by all and it was a great way to end 2011. I still find the fishing to be fairly good for numbers although over the past week or so it seems the bigger fish have been on vacation like everyone else. Active fish can be found in all depths of the water column. Both shallow and deep water presentations are very productive. Water temps are staying in the high 50'and lake levels are now down to 1107 ft above sea level or 10 feet below conservation pool.

Current Patterns -

Shallow: Active fish are being found in many creeks and crankbaits and swimbaits seem to be the best presentations. Shallow diving square bill crankbaits and jerkbaits such as the Ima flit 120 are catching fish roaming around and feeding on shad. The Ima Rock-N-Vibe rattle bait continues to be successful in water less than 5 feet deep.

Mid-Depth: Look for fish ganged up around channel bends ½ to ¾ back into the creeks. These bends in 10-20 foot of water are holding good numbers of bass and we have landed several 5-6lb fish utilizing this tactic over the past week. The Ima Beast Hunter and Strike Kind XD6 and Norman DD22 are great go to baits for this presentation. Some fish can also be caught using jigs in these areas.

Deep: Drop-shot fishing has become to best way to catch numbers in deep water. Fish located at the edge of drops in 30-50 feet of water can be found all over the lake. I have been catching them with El Grande Lures Tubes and Hatch-Match sticks rigged above a ½ oz drop-shot weight. Football jigs and Carolina rigs continue to be productive as well. The right location can catch good numbers with these lures. Some of the better quality fish are coming utilizing these presentations the 20-30 foot depth zone. If I were targeting large bass the football jig and Carolina rig would be my go to lures for now.

See you on the Lake,
Kurt
---
---
Discover what makes Del Rio one of

America's best places to live, visit, work and play.