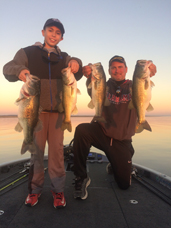 Recent Catches

Kurt Dove
Lake Amistad
Lake Amistad bass fishing has been rated #1 by ESPN !
Lake Amistad fishing guide Kurt Dove is one of the premier full-time Lake Amistad fishing guides. Check out the photos of recent Lake Amistad catches and the updated Lake Amistad fishing report!
---
December 22, 2011

Have you ever seen that many days strung together with soggy weather and clouds in Del Rio?!? The last two weeks was a fisherman's paradise. Although kind of chilly at times the nasty weather had the fish on the prowl. Quite a few big fish over 9 lbs were weighed-in as well as that 12+lber that was noted in last week's Amistad Report. The fishing continues to stay fairly consistent. The absolute best part about this time of the year on the lake is that you don't have to worry about much angling pressure. Most folks are holiday shopping and deer hunting so it's wide open out there! Fish continue to transition to deeper water and are being found in big schools on some of the main lake ledges. The mid-depth crankbait bite is still taking most of the big fish, but those fish continue to be a moving target. Water temps are staying in the high 50'and lake levels are still approximately 1108 ft above sea level.

Current Patterns -

Shallow: Surprisingly, I am still having success in the backs of the creeks. These fish might just hold through the winter around the hydrilla in the shallows. 4-6 foot diving crankbaits still produce by making contact with the grass and then using a slow retrieve. Rattle baits like the Ima Rock-N-Vibe have also been successful in these locations.

Mid-Depth: Deep diving crankbaits and jerkbaits have ruled the waters over the past few weeks with the cloudy weather we had been experiencing. The Strike King XD6 has been very effective for me. The 10-18 foot depth zones with scattered bushes have been the best locations. Stopping or pausing the baits throughout your retrieve as also been a key to provoking many solid hook-ups.

Deep: Football jigs, Carolina rigs and drop-shots are loading the boat very consistently as well around the main lake and creek channel ledges. Spoons will also produce some days. Fishing around the mouth of the Devils River and Rio Grande have been key locations for success in the 30-50 foot depth zones.

Happy Holidays!
See you on the Lake,
Kurt
---
---
Discover what makes Del Rio one of

America's best places to live, visit, work and play.