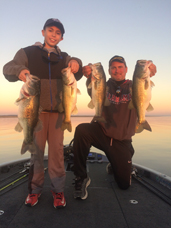 Recent Catches

Kurt Dove
Lake Amistad
Lake Amistad bass fishing has been rated #1 by ESPN !
Lake Amistad fishing guide Kurt Dove is one of the premier full-time Lake Amistad fishing guides. Check out the photos of recent Lake Amistad catches and the updated Lake Amistad fishing report!
---
December 8, 2011
Winter has arrived here in Del Rio over the past week. Buurrrr! It has been chilly! The fishing like the weather as cooled off on Lake Amistad. The fish seem to be in a transition phase from their fall habitat to wintering locations. With the transition and movement of fish it has been hard to pinpoint good concentrations of fish on a consistent basis. They seem to be 'here today and gone tomorrow'. I anticipate the colder water temps from this week's weather to really begin ganging them up out on the main lake structures. Guide trips continue to be productive just not as productive like it had been in the past weeks. Water temps as the cold front were approaching were in the low 60's and I anticipate them to drop into the high 50's by the time this report hits the website. Lake Amistad water levels are steady at approximately 1108 ft above sea level.

Current Patterns -

Shallow: There are still a few fish in and around the back of the creeks. I continue to have success working 4-6 foot diving crankbaits and jerkbaits around the hydrilla grass that remains. The key to provoking strikes is making contact with the grass and then utilizing a slow retrieve in these locations. I have also been able to work around some of the wood cover in the backs of creeks to get strikes as the grass continues to die off.

Mid-Depth: I have been concentrating on fishing the last few deep drops around the channel bends in the backs of creeks with deep diving crankbaits. These fish are in transition from the shallows and on the move to deeper water. Working for these reaction strikes has been a labor of love. Fish are few and far between in these locations but when you do make contact they seem to be of good quality. I try to back up some of my cranking efforts with bottom bouncing lures like football jigs and texas rigged plastics and there are some fish being caught on these presentations.

Deep: The deep bite continues to become more and more a factor as the water temps decrease. I anticipate this depth zone to get stronger and stronger in the next few weeks as long as we stay in the colder weather pattern. It's hard for anglers to fish too deep… lots of good fish are coming from 30-60 feet. Big drop shot presentations and football jigs in brown and watermelon colors are working very well. I anticipate the spoon bite to start coming on soon too.

See you on the Lake,
Kurt
---
---
Discover what makes Del Rio one of

America's best places to live, visit, work and play.