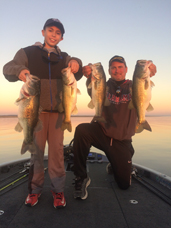 Recent Catches

Kurt Dove
Lake Amistad
Lake Amistad bass fishing has been rated #1 by ESPN !
Lake Amistad fishing guide Kurt Dove is one of the premier full-time Lake Amistad fishing guides. Check out the photos of recent Lake Amistad catches and the updated Lake Amistad fishing report!
---
June 7, 2010

Consistent summer patterns are beginning to take shape on Lake Amistad. The fishing is still good in the shallows and some big fish are still utilizing the 5-10 foot depths, but I am finding the better and consistent concentrations of fish are coming from the deeper grass in 15-25 foot range. Lake Amistad is still putting out very solid fish on a regular basis. On nearly every outing we are seeing quite a few 4+lb fish with an occasional 6+lber. The water temps are in the low 80's all over the lake.


Current Patterns -
Shallow: Topwaters such as the Zara Spook and jerkbaits like the Megabass Ito Vision 110 produce some fish in the early morning or low light conditions around flats and points with grass. The frog bite is turning on in the pond weed grass and I have been working the El Grande Lures Sapo fast over top of the grass and getting explosive strikes. Working Texas rigged plastics around the grass is also producing fish. Work your Texas Rig baits slow..... and you will catch more fish. The bluegill are still spawning and will continue for many weeks. If you find some blue gill beds then big bass are nearby. Fish those areas in the morning with swimbaits and topwaters and hold on!
Mid-Depth: The punching grass bite is beginning. Most of the grass is still about 7 feet below the surface but is growing thick in depths of 15-20 foot. Texas rigging with 10inch worms or El Grande Lures Hatch-Match stick baits are still working around the edges and on top of these big thick grassy areas. The key to finding concentrations of fish at this depth is to locate the grass and then the closest deep water access point.
Deep: I continue to find exciting action shallow and mid depth but drop-shots and carolina rigs near creek points and channel ledges on the main lake in 25-50 feet are always easy ways to put fish in the boat if you can't find good action in the grass. Use your electronics to locate the fish and have fun!

See you at the Lake,
Kurt
---
---
Discover what makes Del Rio one of

America's best places to live, visit, work and play.