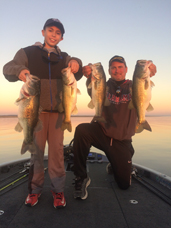 Recent Catches

Kurt Dove
Lake Amistad
Lake Amistad bass fishing has been rated #1 by ESPN !
Lake Amistad fishing guide Kurt Dove is one of the premier full-time Lake Amistad fishing guides. Check out the photos of recent Lake Amistad catches and the updated Lake Amistad fishing report!
---
May 21, 2010

Lake Amistad bass fishing continues to be very strong the last 10 days. We have had many cloudy days and the result has been a topwater bite that won't quit. It is like a little piece of bass fishing heaven! I continue to catch great numbers every outing (30+ fish) and some bigger fish are in the 5-6lb range. Multiple bass over 4lbs continue to show up daily with the chance to catch a Lake Amistad toad on every cast. Lots of fish are still shallow all over the lake. Water temps all over Lake Amistad are in the low to mid 70's.

Current Patterns -

Shallow: The topwater bite continues to dominate in the mornings and lasts through the day when we have low light conditions (throw spooks around shallow flats all over the lake and you will locate concentrations of quality fish). The jerkbait bite seems to be heating up as well in water 5-15 feet deep (stay around the grass and trees to make this bite work for you). The swimbait bite has seemingly died off for the time being, but I would not be big fish hunting in the shallows without one tied on.
Mid-Depth: The key to finding concentrations of fish at this depth is to locate the grass and then the closest deep water access point. Fish over 6lbs continue to come from 15-25 feet on plastics bounced along the bottom in these areas. Rigging your Tx rig with the smallest weight you can get away with depending on wind velocity will produce the most bites.
Deep: Drop-shots and Carolina rigs near creek points and channel ledges on the main lake are productive in 20-50ft.

See you at the Lake,
Kurt
---
---
Discover what makes Del Rio one of

America's best places to live, visit, work and play.