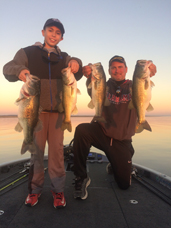 Recent Catches

Kurt Dove
Lake Amistad
Lake Amistad bass fishing has been rated #1 by ESPN !
Lake Amistad fishing guide Kurt Dove is one of the premier full-time Lake Amistad fishing guides. Check out the photos of recent Lake Amistad catches and the updated Lake Amistad fishing report!
---
April 27, 2010

Lake Amistad bass fishing has been fantastic over the past few weeks! Lake Amistad is still seeing a lot of fishing pressure but continues to be very productive with big bass action. Many of the fish are still shallow all over the lake. We continue to catch quite a few pre-spawners although many more post-spawners as the days progress. We have been catching a quite a few really solid fish in the 5-8lb range. Last Friday and Saturday we had best 5 fish tourney bags over 28lbs while on guide trips. Water temps are up into the mid 60's to 70 degrees all over Lake Amistad.

Current Patterns -
Shallow: Fish are still spawning on the main lake and are now becoming post spawn in many of the creeks. Some females continue to move in while many are moving into the post spawn stage. The more consistent presentations right now seem to be 5 inch Optimum BLT swimbaits in the 1-15ft range and the finesse worms continue to produce.
Mid-Depth: The senko type baits and 10 inch worms are becoming more productive in the 5-25 foot ranges when worked slowly over grass, rock and wood. The football jig bite in 10-30 feet continues to be productive, but the carolina rig presentations seems to be taking over for more number of fish in the mid-depth range. Continue looking for typical post-spawn transition areas.
Deep: The deep bite on drop-shots near creek points is still productive in 20-50ft.

See you at the Lake,
Kurt
---
---
Discover what makes Del Rio one of

America's best places to live, visit, work and play.