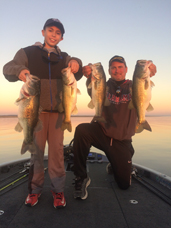 Recent Catches

Kurt Dove
Lake Amistad
Lake Amistad bass fishing has been rated #1 by ESPN !
Lake Amistad fishing guide Kurt Dove is one of the premier full-time Lake Amistad fishing guides. Check out the photos of recent Lake Amistad catches and the updated Lake Amistad fishing report!
---
March 12, 2010

The swimbait bite in on! The fish are up all over the lake and spring fishing is officially here. Over the last 4 days we have caught many fish over 7lbs with the best being a 8.10. Water temps are up into the high 50's on the main lake and 60 degrees in the backs of the creeks. Most fish are in phases of pre-spawn and spawn.


Current Patterns -
Shallow: We are catching some spawning fish in the backs of major creeks. Females are still just moving in but more are showing up by the hour. The more consistent chuck-n-wind presentations right now seem to be finesse worms, rattle baits and swimbaits in the 1-10ft range.
Mid-Depth: The DD22 bite still exists in the 9-14ft range around the grass. The football jig bite in 10-30 feet has still been consistent and continue to catch some better quality fish. Look for typical pre-spawn staging areas. (Deep water just out from spawning areas) A good rough rocky bottom with grass nearby help the cause tremendously when throwing the football jig.
Deep: The deep bite on drop-shots is still productive in 30-50ft. I have been staying mostly in the mid-depth and shallow ranges cause of all the great activity in the shallows. The deep bite will be secondary for me from now till May. I will generally use my graph to locate the fish before I just begin fishing randomly in this depth zone.

See you at the Lake,
Kurt

---
---
Discover what makes Del Rio one of

America's best places to live, visit, work and play.