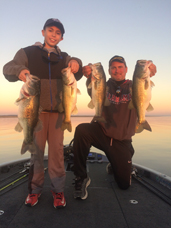 Recent Catches

Kurt Dove
Lake Amistad
Lake Amistad bass fishing has been rated #1 by ESPN !
Lake Amistad fishing guide Kurt Dove is one of the premier full-time Lake Amistad fishing guides. Check out the photos of recent Lake Amistad catches and the updated Lake Amistad fishing report!
---
February 28, 2010

Here at Lake Amistad the fish are moving up and the fishing is getting HOT!
Over the last week the Lake has produced 2 ShareLunkers. A 13.50 was caught last Sun. and a 13.02 was caught this Sat. I have been catching fish up to 8lbs on guide trips and have had 2 days in the last week with our best 5 fish going over 27lbs.
Water temps are still in the mid 50's and although a few fish are spawning now I believe the first large wave will come on the next new moon.

Current Patterns -
Shallow: We are seeing some spawning fish in the backs of major drains. Mostly males posting up and some females are slowly moving in. The more consistent pattern right now seems to be rattle baits and spinnerbaits in the 1-8ft range and then working DD22's just out from the really shallow stuff in 10-14 feet over grass.
Mid-Depth: The football jig bite in 18-32 feet has been outstanding and my consistently bigger fish are being caught this way. Look for typical pre-spawn staging areas. (Deep water just out from spawning areas) A good rough rocky bottom in these areas are a sure fire way to catch some big stringers in one area.
Deep: The deep bite on drop-shots and spoons are still productive in 30-50ft. I will generally use my graph to locate the fish before I just begin fishing randomly in this depth zone. These fish seem to be moving around every day but when you run into them you can catch quite a few very quickly.

See you at the Lake,
Kurt
---
---
Discover what makes Del Rio one of

America's best places to live, visit, work and play.