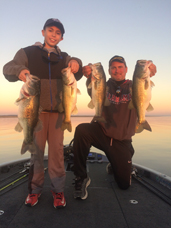 Recent Catches

Kurt Dove
Lake Amistad
Lake Amistad bass fishing has been rated #1 by ESPN !
Lake Amistad fishing guide Kurt Dove is one of the premier full-time Lake Amistad fishing guides. Check out the photos of recent Lake Amistad catches and the updated Lake Amistad fishing report!
---
February 14, 2010

The fish movements here at Lake Amistad are starting to go into some major transitions. I have recently done fairly well in a few tournaments. I finished 5th in the West Texas Federation Event and took 4th in another local event. Water temps are in a flux from the low 50's after a front and moving into the mid-high 50's with a few days of warm weather.

Current Patterns -
Shallow: I am starting to see some activity in very shallow water when we get a few days of warm weather stung together. Last week I saw a few fish that were staging just off bedding areas. They are getting anxious even though our water temps are inconsistent. I have been catching some shallow fish on reaction baits when the conditions are right.
Mid-Depth: More and more fish are showing up in these depth zone. The crankbait bite is starting to heat up for me over the last few weeks. If you can find some grass on a flat that has 10-18 feet of water then the will eat the faster moving baits. I have also been doing well just off those flat areas in 15-30 feet with football jigs as long as some trees or rough rock are present.
Deep: Again similar to my January report the 40 - 70 foot depth zone is productive. My efforts have been rewarded in this depth zone using jigging spoons and drop-shots. I will generally use my graph to locate the fish before I just begin fishing randomly in this depth zone. These fish seem to be moving around every day but when you run into them you can catch quite a few very quickly.
See you at the Lake,
Kurt
---
---
Discover what makes Del Rio one of

America's best places to live, visit, work and play.