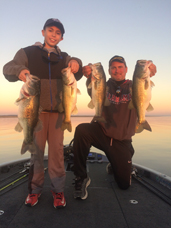 Recent Catches

Kurt Dove
Lake Amistad
Lake Amistad bass fishing has been rated #1 by ESPN !
Lake Amistad fishing guide Kurt Dove is one of the premier full-time Lake Amistad fishing guides. Check out the photos of recent Lake Amistad catches and the updated Lake Amistad fishing report!
---
November 21st 2009
The fishing at Lake Amistad has been heating up as the water is cooling down.
I have had some fantastic trips over the last couple weeks as the water is just now dipping into the mid 60's. As usual I am catching fish is all parts of the water column. The shallow bite and deep bite vary from day to day and the most consistent bite seems to be in the 20-35 foot depth range.

Current Patterns -
Shallow: I am still taking nice bass up to 4.5 lbs in the pepper grass/pond weed near the bank in 1-5 foot. Moving frogs across the top of the grass are enticing explosive strikes. Many of these fish seem to be relating to the thicker areas of grass. The edge of the grass areas where we find sharp drop offs are holding bass as well. I have been targeting these fish with Tequila worms, spinnerbaits, crankbaits and jerkbaits.
Mid-Depth: I have been catching some quality fish on 10 inch worms and football jigs around the remaining areas that have hydrilla. Find the grass and you will find the bass. If there are some trees mixed in on the drop off then you will have a great opportunity to catch one of those Amistad toads!
Deep: The 40 - 70 foot depth zone is productive as long as the bait is present. When finding the bait at this depth we have been catching fish on drop-shot and texas rigged Tequila worms.
As we move into December and the water continues to cool we expect the bait to gather up deeper and closer together. Once that occurs we will begin to find some bigger schools of fish out deep. Del Rio has great weather through out the winter season. Come on down and have some fishing fun.
I am receiving many inquires about the spring season and are booking trips. Call now to book your trip so you can get your dates of choice.

See you at the Lake,
Kurt
---
---
Discover what makes Del Rio one of

America's best places to live, visit, work and play.