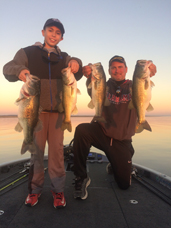 Recent Catches

Kurt Dove
Lake Amistad
Lake Amistad bass fishing has been rated #1 by ESPN !
Lake Amistad fishing guide Kurt Dove is one of the premier full-time Lake Amistad fishing guides. Check out the photos of recent Lake Amistad catches and the updated Lake Amistad fishing report!
---
June 12, 2009
There has been a lot less traffic on the lake the last few weeks and fishing has picked up quite a bit. I have been concentrating on fishing grass beds in the early morning hours. Tequila worms, rattle traps and 10 inch worms have been the best baits for consistency. Although if you like to punch grass with heavy weights and are confident enough to stay with it, you will find a mother load and really have some fun. The last few weeks has been tough for the top water enthusiasts. I have talked to a couple anglers that are catching some fish on spooks and chugger type baits and we have encountered a few, but not to many at this time. As the water continues to warm up, currently it is in the low 80's in the mornings, and as the water levels continue to decrease, we expect the topwater bite to get better. During the high pressure days I am still catching fish on drop-shots and most seem to be concentrated in the 30- 50 foot depths. These are the most consistent fish on the lake right now although size can vary tremendously from fish to fish. I look forward to a great fishing in the next few weeks as the bite continues to heat up as the grass continues to grow and the water level decreases. Come on down and catch the fun!

See you at the Lake,
Kurt
---
---
Discover what makes Del Rio one of

America's best places to live, visit, work and play.