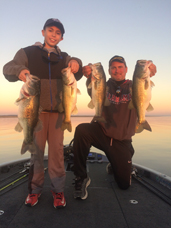 Recent Catches

Kurt Dove
Lake Amistad
Lake Amistad bass fishing has been rated #1 by ESPN !
Lake Amistad fishing guide Kurt Dove is one of the premier full-time Lake Amistad fishing guides. Check out the photos of recent Lake Amistad catches and the updated Lake Amistad fishing report!
---
May 18, 2009

Lots of anglers on the water the past week and the week upcoming with the FLW Stren tournament in town. The last few weeks has continued to be good fishing on the lake. The water has been dropping steadily (about 2.5 feet) and as it continues to drop we will see the fish get in tighter groups. I have had some awesome days with numbers of fish into the 30's on some full day trips. Lots of 2 - 2.5 lbers with some 3.5 to 4 lbers mixed in. An occasional fish over 5 lbs is the norm as well. The mornings have been spent shallow (1-10 feet) with topwaters, jerkbaits and the 3' BLT Optimum Swimbait in hand. Many mornings the fishing is fast and furious. As the sun gets higher later in the day we concentrate on deeper water patterns. I am primarily working the 15-25 foot depths. I focus efforts around the submerged trees with Mexicola Red and Silver Tequila Tequila Worms and Motor Oil Red 10inch Berkley Power worms Texas rigged. I am catching many of the bigger fish drop-shotting finesse worms in 35-45 feet on or near steep ledges. Windy days have been a bit tougher for the big bite as it limits some of the open water patterns and areas that I can fish. I look forward to great fishing in the next few weeks as the topwater bite continues to heat up as does the water.

See you at the Lake,
Kurt
---
---
Discover what makes Del Rio one of

America's best places to live, visit, work and play.