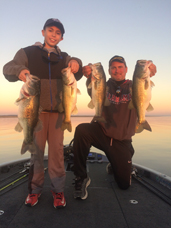 Recent Catches

Kurt Dove
Lake Amistad
Lake Amistad bass fishing has been rated #1 by ESPN !
Lake Amistad fishing guide Kurt Dove is one of the premier full-time Lake Amistad fishing guides. Check out the photos of recent Lake Amistad catches and the updated Lake Amistad fishing report!
---
March 31, 2009

The past few weeks have been pretty decent on the lake regardless of the weather. Clients and I have had some great days on the water when we can move around and target the favorable patterns throughout the day. The windy days have been a bit tougher as it limits some of our movement and areas that we can fish.

Three major patterns have been in place and continue at the time of this report. I look for these same patterns to last nearly the entire month of April.
Pattern 1. Fishing for pre-spawners over trees in 7 - 20 feet of water. I have been targeting these fish with Optimum BLT swimbaits, Baby E swimbaits, and Luckycraft Pointer 100sp jerkbaits.
Pattern 2. Spawning fish in the pockets. You can see spawning fish throughout the lake with males on bed nearly everywhere. The wind plays a big factor in the conditions for this type of fishing and when the wind lays really calm you can target some of the bigger females in the deeper water... 6 - 15 feet. If its windy you can target these fish with texas rigged worms or wacky rigging Tequila worms/sticks in the pockets of the creeks.
Pattern 3. The deep bite is always a factor at Amistad. I am catching fish in 25 - 40 feet with drop-shots on main lake points and humps with smaller finesse worms and 12 - 18 inch leaders.
I look forward to a great month of fishing in April with very few dates left on my calendar. The bite most fishing enthusiasts should be looking forward to is coming in May and June. The fish will be feeding heavily all day long after re-cooping from the spawn and will get in more reliable and consistent patterns. It is one of the best times of year to sample the awesome fishing at Lake Amistad.

See you at the Lake,
Kurt
---
---
Discover what makes Del Rio one of

America's best places to live, visit, work and play.